Del Taco Inc - World Headquarters Jobs: Overview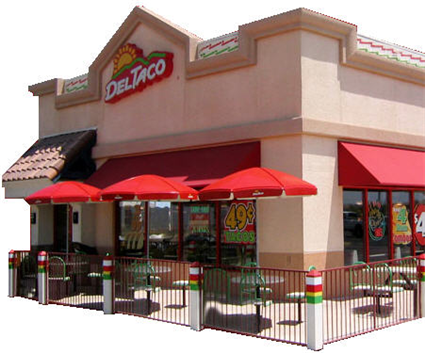 Del Taco offers significant opportunities for growth and career advancement. We offer a work environment that is team-oriented, fast paced and fun. We are currently looking for enthusiastic, self-motivated leaders to join our team and grow within one of our company-owned Del Taco Restaurants
Current Orange County Job Openings
There are no advertised positions at Del Taco Inc - World Headquarters
Our History
The first Del Taco opened in 1964 in Barstow, California with a concept that caught on quickly -- freshly prepared, made to order Mexican/American food, fast service and value. In more than 36 years, Del Taco has grown to become a major player in the Mexican- style quick-service category. With over 400 restaurants across the country, Del Taco is the second largest Mexican/American chain in the United States.

Building the Concept
The success of the first restaurant, in 1964, quickly led to expansion. Months after the first, a second restaurant opened in Corona, California with a significant addition -- a drive-thru window which was to become an enduring feature of the Del Taco chain. Two years later, Red-E-Foods Systems, Inc. was formed and Del Taco became a hot Southern California franchise. In 1972, a modernized, 28-seat restaurant opened in Newport Beach, the largest Del Taco at that time. This updated Del Taco was the epitome of the modern, efficient fast-food outlet and became the design prototype for Del Taco restaurants to come.

In 1973 Red-E-Foods Systems, Inc. officially changed its name to Del Taco, Inc. and it also marked the first year that Del Taco opened units at an average rate of one per month.

Three years after changing the name to Del Taco, Inc. founders Ed Hackbarth and David Jameson sold their stock to an independently held firm. The new management team set their sights on further expansion throughout Southern California. The 50th Del Taco restaurant opened in February, 1977 with the 100th restaurant opening just 19 months later.

Naugles, another quality Mexican fast-food chain, was established in 1970 and quickly gained in popularity. In 1971, Harold Butler bought the three Naugles restaurants and began rapid expansion, growing the chain to 225 restaurants. In December 1985, Butler sold Naugles to Collins Food International.

In March 1988, Del Taco and Naugles, two of the most successful Mexican fast-food restaurant chains, combined to become one of the strongest competitors in the then $60 billion fast-food industry.

Strengthening the Concept
In 1990, Kevin K. Moriarty joined the company as Chief Executive Officer and it proved to be a watershed year for Del Taco. In the ensuing years, the chain redoubled its efforts to ensure customer value and operator opportunity. CEO Kevin K. Moriarty and his management team became owners of the company and took the necessary measures to ensure their concept continued its growth momentum. They launched an aggressive program of brand marketing and promotions; improved operating efficiencies for better and faster customer service; re-acquired out-of-state trademark rights to the Del Taco name; reorganized and strengthened the company's balance sheet.

Particularly significant to the chain was the unveiling of Del Taco's new Concept 2000 restaurant design. The Concept 2000 design provided a unique, fun, festive, experience at a fast-food value that the whole family could enjoy.

The Road to Expansion
In an industry pervasive with speed, Del Taco has successfully positioned itself for accelerated expansion nationwide. Spreading its advantageous concept and growth momentum across the nation, Del Taco recently has signed 50+ development agreements that will increase the Del Taco chain by an additional 300+ franchised restaurants over the next few years. These new agreements represent the largest franchise growth in the history of the company.

X
Send Message to Del Taco Inc - World Headquarters
Your email has been sent!